The HAWK Motorcycle security system is a sophisticated transponder immobiliser. The transponder tag is a small transmitting device which when introduced within the proximity of the bikes ignition sends a unique Encrypted code which the immobiliser responds to and allows the bike to start, without the correct transponder tag the bike will not start. The system also incorporates an instrument/tail light mounted blue LED to indicate the status of the system as well as acting as a visual deterrent.

The system arms automatically when the ignition is turned off and the keys removed from the ignition (with the transponder tag attached to the keys). After 60 seconds has elapsed, the immobiliser will arm and the blue LED will now flash indicating the motorcycle is now immobilised.

Inserting your keys (with the transponder tag attached) into the ignition will result in the blue LED extinguishing when turning the ignition on, indicating that the motorcycle can now be started.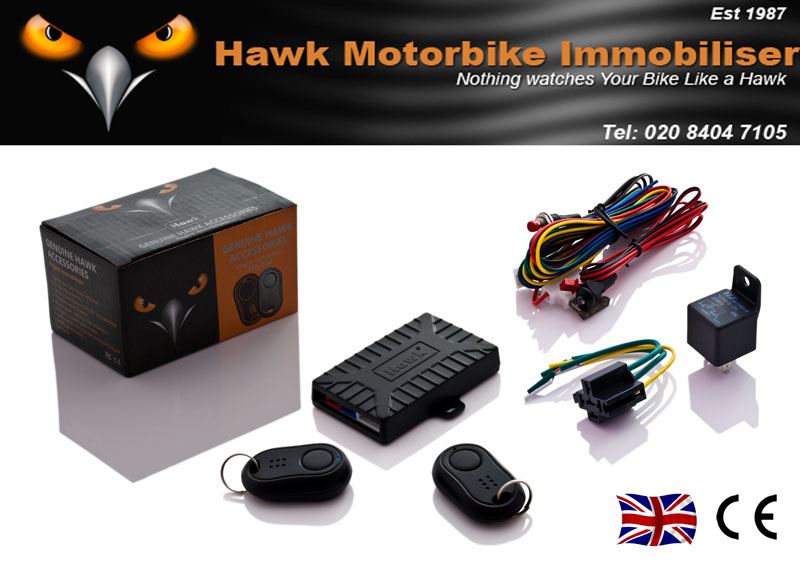 This system operates on 2.4 GHz frequency (not 433 MHz as others do) this makes system very stable and it will never loose link with the transponders

MAIN FEATURES
An immobiliser system, providing single circuit immobilisation protection

Supplied with 2 Encrypted coded transponder tags

Blue status LED

Valet Mode

Anti - Hijack Mode

SECURITY FEATURES
The included coded transponder tags with an excess of 18 trillion different tag code combinations available (Lost or stolen transponder tags can also be programmed out)

Single circuit immobilisation (30 amp continuous)

Passive immobilisation occurs 60 seconds after turning off the ignition

Short circuit protection

Optional output for 2nd

immobilisation
CONVENIENCE FEATURES