This is the all new HAWK ULTRA SLIM HID lighting kit for H7 bulbs.

The HID kits are designed as 'plug and play' meaning no wiring to the vehicles battery - simply connect together using your bulbs connector. Installation time of our HID conversion kits is typically no more than 60 minutes but this varies depending on the vehicle.

H7 HAWK Ultra Slim HID conversion kit rated at 35W. This will give 300% more light than a standard halogen and comes with ultra slim ballasts ideal for all cars including small cars and those space restricted applications.

These new super thin ballasts are great when space is a major premium. Commonly used on modern engines that seem to fill up most of the engine bay! The HAWK ULTRA Slim ballasts are of course Digital, which improves reliability and reduces the problems associated with the older non-digital type ballasts. They are also fitted with a separate starter attached to the ballast.

As these ballasts are at the higher quality end, the HAWK ULTRA SLIM ballast produces more light than other HID conversion kits and are even brighter than the factory fit Xenon headlights. Over 300% more light than your existing H7 halogen bulbs.

To make fitting even easier we have written our own instruction manual so you don't have to translate the Chinese English instructions supplied with most other HID kits. We even included a fault finding guide.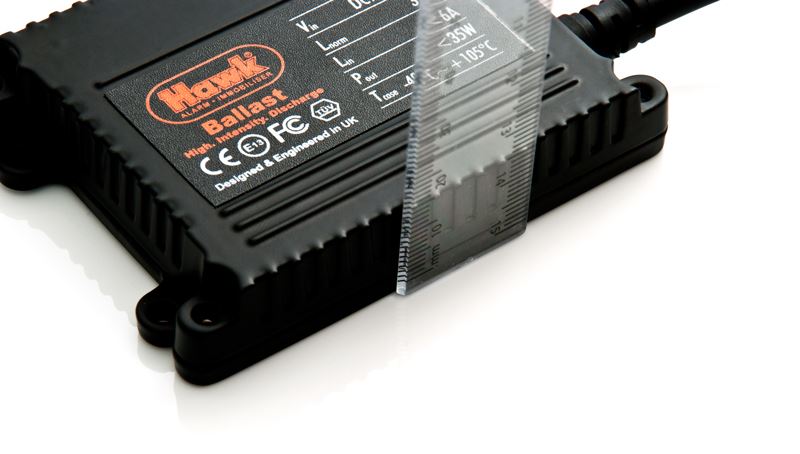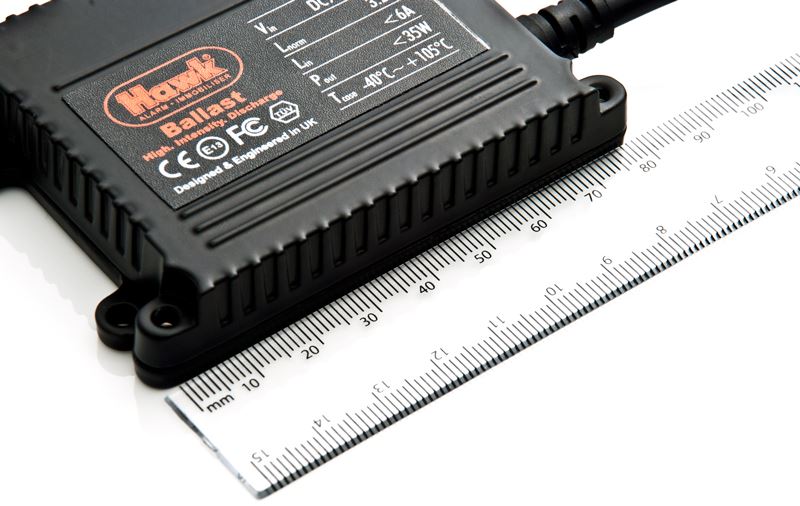 Xenon HID headlight conversion kit to fit cars with size H7 headlight bulbs
Brilliant white 6000K light, similar to daylight
Xenon light - 3 times brighter than halogen bulbs
Increase efficiency - consumes half the power of normal bulbs
Safer driving with longer & wider beam
Better for environment than standard bulbs
Reflects road signs better than standard bulbs
Long life bulbs usually last more than 3000 hours - over 10 times longer than standard bulbs
Built in low voltage protection
Built in over voltage protection
Waterproof, dust proof & vibration proof
Compact, easy fit design
Size H7, 35W, 2300V
ROHS, E13, CE, CNAB ISO9001:2000 certification
Includes fitting instructions & user manual
Compete kit including 2 bulbs, 2 ballasts & connectors/wiring
This kit is not suitable for cars or Motorcycle with canbus/multiplex wiring. You require additional
CANBUS adaptor
see our shop.