HAWK XFinder X1 Vehicle Tracking and Security System
The HAWK XFinder X1 is an ideal Vehicle tracking device. Its small size makes it easy to place in any vehicle, giving you the real-time updates you need.
Vehicle tracking devices have always been popular attracted by the anti-theft benefits and locate the vehicle via mobile phone.
The problem is that, up to now, vehicle tracking devices tie users into a contract. On top of this there's a fixed monthly charge. The system becomes expensive.
We at Hawk Car Alarms have come up with a solution. We launched HAWK XFinder X1 the first vehicle tracking device that's available on a genuine Pay-As-You-Use basic. There's no contract and no monthly fee. You simply insert the sim card, just as you would with PAYG mobile phone and top up when you need to. So you genuinely only pay for what you use. No contracts, no direct debts to sign, no hidden extra and no hassle.
HAWK XFinder X1 vehicle tracker comes with a superb range of additional features, also at no extra charge. For example, if a vehicle is towed away, or even if the battery goes flat, it sends a text alert to the user's mobile. HAWK XFinder X1 can also be used remotely immobilise the vehicle - invaluable if the vehicle is stolen.
Enjoy an unlimited power supply while the Vehicle is running and, if the Vehicle battery is disconnected, the HAWK XFinder X1 backup battery will continue to provide location information -- ideal for recovering a vehicle if it's been stolen. The backup battery will last at least approx 12 minutes.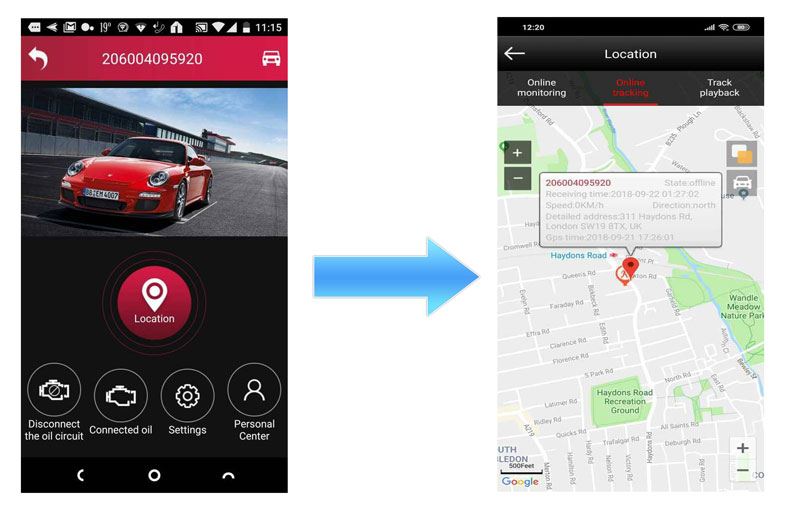 Tracking shown via Smart phone.
Can be tracked via non Smart phone
Android & Apple App could be downloaded free of charge. Subscription period 1 year. Subscription can be extended further year for modest fee.
Tracking via SMS command always free
In the Box:
HAWK XFinder X1 GPS/GSM Tracker
Immobiliser Relay with socket
4 x screws
Gift box
User / Install Manual downloaded via website: